Victoria Harwood is the voice actress of Sir Integra Fairbrook Wingates Hellsing in both the Anime and OVA series.
Information
Edit
Biography
Edit
Victoria Harwood, born in the UK, is a California-based voice actress and singer. She does for anime roles at Geneon Entertainment/New Generation Pictures.
Harwood started her career as a dancer before moving into television. She appeared in Auf Wiedersehen, Pet as Bettina in 'The Accused' released in 1983. This questions her birth year (perhaps 1965). She trained at RADA and worked in theater in London and Europe before getting married to film producer William Butler-Sloss and moving to Los Angeles. Currently, she lives in Hollywood with her husband and two sons, Arum and Roibhilin and continues to work in voice overs. Her most well-known role is that of Sir Integra Fairbrook Wingates Hellsing and in The Last Remnant as Roeas.
On Integra
Edit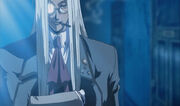 Victoria seldomly speaks on Integra, however she does suspect that she has some attraction to Alucard, perhaps even Walter. She expected a sexual scene to happen between either one of those men, but was surprised when it didn't happen. She does, however, admit that there really are no basis' for these beliefs. She says that Integra's severity comes from having the Hellsing Organization behind her.
In the OVA, she feels that Integra is more relaxed and humorous.
Community content is available under
CC-BY-SA
unless otherwise noted.