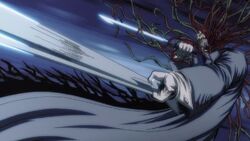 This is a list of creatures other than Vampires, with links to main articles.
See Human
The world's (self-proclaimed) dominant species.
See Werekin Werewolves and other humans that turn into or are otherwise merged with animals.
Monster of God
Edit
Alexander Anderson became one of these after ramming Helena's Nail into his heart, causing him to obtain supernatural powers to fight Alucard, while losing his humanity in the process. Alucard himself calls him a "Monster of God", but digresses that Anderson loses the ability to actually kill him for becoming someone like himself.
These species exist as comical and helpful, usually in the form of weapon spirits. Seras Victoria's Harkonnen is such a spirit that occassionally makes his presence known.
Entities with great powers; multiple beings who created the Universe and control the elements. While no such entity appears in the manga proper, Sett appears in the anime.
Familiars and Ghosts
Edit
Familiars are the souls of those whose spiritual essence lives inside a vampire to whom is capable of summoning it as its servant.
Notable Ghosts
Edit