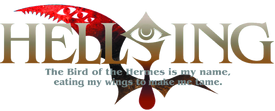 Hellsing: Ultimate (ヘルシング, Herushingu) is an Original Video Animation series. The series was created after the Hellsing anime had finished, and was intended to be more true to the manga than the anime was. Over the course of the years, they have changed animation studios at multiple occasions. Hellsing Ultimate 1-4 were animated by the animation studio Satelight, before Madhouse took over as of 5-7. It was then announced that a new company would be animating the final three episodes of the series; Graphinica x Kelmadick, though it is still being produced by Geneon.
Hellsing Ultimate follows the manga storyline more closely than the anime series. The first episode was released in Japan on February 10, 2006, and as of December 26, 2012 all ten episodes have been released. The first episode was released in North America on December 5, 2006, and as of December, 2012 all ten English subtitled episodes have been released.
The series began airing on Adult Swim's Toonami block on September 13, 2014 at 3:00 AM. The final 2 episodes of the series were aired on Toonami December 6, 2014.
Music
[
]
The ending of each episode uses various pieces of instrumental music composed by Hayato Matsuo and performed by the Warsaw Philharmonic Orchestra, up to the fifth installment. Episodes VI and VII feature vocal closing themes by Japanese rock group Suilen, titled "Magnolia" and "Shinto-Shite", respectively. Episode VIII has "When You Start the War, Fight With Arrows, Spears and Swords!" a song from the original TV series, and episode IX features Japanese singer Maon Kurosaki in the song "Scars."
Episodes
[
]