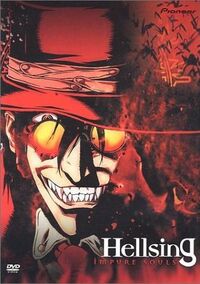 Hellsing: Impure Souls (ヘルシング, Herushingu) refers to the made-for-television anime based on Kouta Hirano's manga Hellsing. It was first broadcast in Japan on Fuji Television from October 10, 2001 to January 16, 2002 and ran in the United States from October 4, 2003 to December 27, 2003 on Starz!'s Encore Action cable channel. It finished at thirteen episodes long.
The anime follows a different storyline, especially towards the end, but with the same protagonists and main characters. The series was directed by Umanosuke Iida from a screenplay by Chiaki Konaka and produced by Gonzo Animation.
Characters
[
]
Main characters
[
]
Secondary characters
[
]
Other characters
[
]
Cast
[
]
Japanese Cast
[
]
Jōji Nakata - Alucard
Fumiko Orikasa - Seras Victoria
Yoshiko Sakakibara - Integra Hellsing
Nachi Nozawa - Alexander Anderson
Takumi Yamazaki - Incognito
Motomu Kiyokawa - Walter C. Dornez
Hideyuki Tanaka - Enrico Maxwell
Takehito Koyasu - Luke Valentine
Kazuya Nakai - Jan Valentine
Akiko Hiramatsu - Helena
Hisato Masuyama - Enrico Stivaletti
Takashi Taniguchi - Harry Anders
Mika Di - Bubbancy
Unshō Ishizuka - Peter Fargason
Tomoyuki Shimura - Gareth Henderson
Yuuji Takada - Chris Pickman
Ken Narita - Paul Wilson
Ryotaro Okiayu - Enrico Stivaletti
English Cast
[
]
Crispin Freeman - Alucard
K. T. Gray - Seras Victoria
Victoria Harwood - Integra Hellsing
Steven Brand - Alexander Anderson
Isaac Charles Singleton, Jr. - Incognito
Ralph Lister - Walter C. Dornez
J. B. Blanc - Enrico Maxwell
Patrick Seitz - Luke Valentine
Josh Phillips - Jan Valentine
Akure Wall - Helena
Pam Susslin - Kim
Arthur Russell - Harry Anders
Siobhan Flynn - Laura
William Morgan Sheppard - Peter Fargason
Peter Gail - Gareth Henderson
Arthur Russell - Chris Pickman (Episode 09)
Gidart Jackson - Chris Pickman (Episodes 11-12)
Craig Young - Paul Wilson
Hisato Masuyama - Enrico Stivaletti
Episodes
[
]
Music
[
]
See also
[
]
Trivia
[
]
Incognito does not appear in the manga and his name comes from the literal definition of the word "incognito." In episode nine, Alucard responds to Incognito's introduction by saying his name's "quite an enigma as well."
It has also been argued that, while Alucard may be inspired by, or is, Count Dracula, Incognito may have been inspired by the vampire Count Orlok from the 1922 silent movie Nosferatu.
The plotline of the anime is different than the manga and OVA. These differences are only slight up until Episode 08, where the plot begins to diverge dramatically from what is presented in the manga. Like many other anime, the studio ran out of source material to adapt while the show was in production, forcing them to create their own storyline based on what had already been presented.
A TV trailer shows that Millenium was about to appear in the TV series and alluring that the first season was supposed to end during the massacre in the Rio hotel.
Because of the exclusion of the Millennium Organization, Walter C. Dornez never betrayed Integra and the Hellsing Organisation.