We allow short articles on other series by Kouta Hirano as they often times give more insight into the Hellsing series.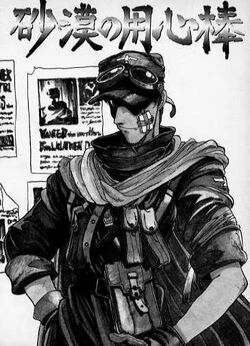 Desert Guardian is a manga created by Kouta Hirano before Hellsing that features a character similar to Millennium's Captain.
The story takes place in the Middle East. The Captain assists a boy in the rescue of his sister.
Notable Differences from Hellsing
Edit
Unlike in the Hellsing series, this Captain actually speaks and he serves as a protagonist instead of an antagonist like in Hellsing.
Prototype Hellsing Characters Featured
Edit